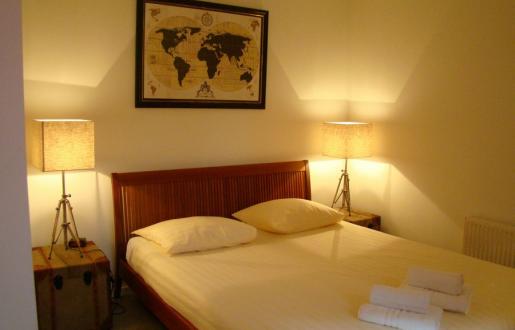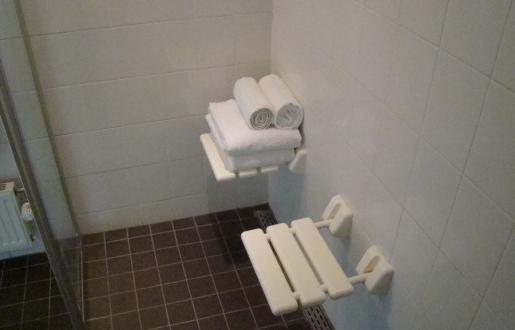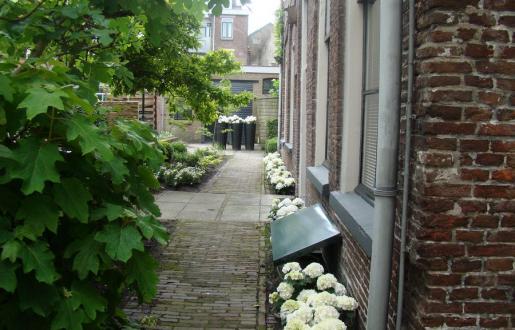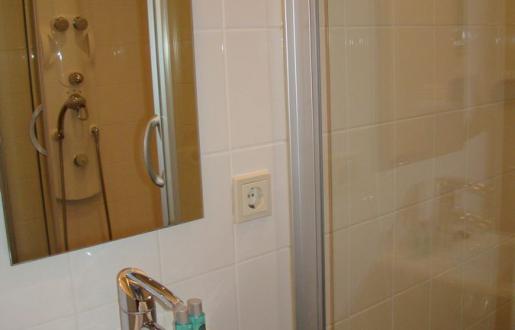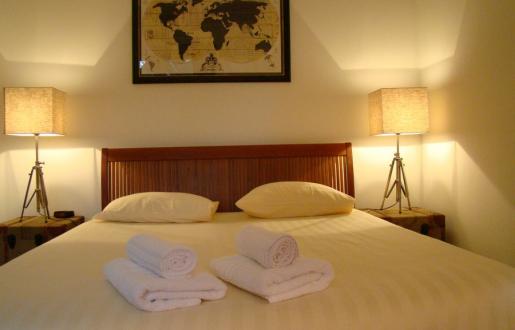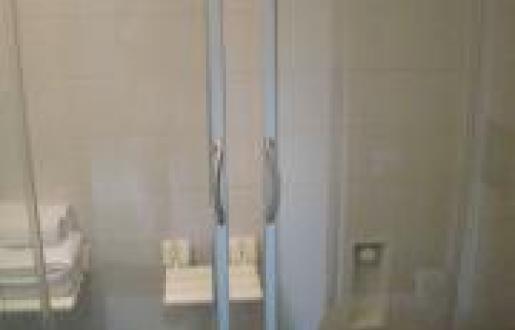 Steam Shower Suite in Hotel de Tabaksplant Amersfoort
Hotel de Tabaksplant in Amersfoort features four suites. All different! You can choose this suite with a Turkish eucalyptus steam shower or choose one of the others, a suite with a whirlpool or with sauna and extra long bed, or a suite with a 100% transparent jet stream massage shower . 
The rooms feature a kitchenette with free tea and coffee making facilities and unlimited free Wi - Fi .
This room has a double bed and a twin comforter with hypoallergenic pillows and blankets form combed cotton. The bathroom features a steam shower with integrated regular shower, designer sink, toilet and two seats to enjoy the eucalyptus steam. The suite with the eucalyptus steam shower is located on the ground floor overlooking our own unique courtyard
Turkish steam is an experience : Sitting on two seats in the shower cabin you will experience the benefits of steam enriched with eucalyptus oil. Relaxed yet you want to cool down, no problem then turn the integrated shower on. Evidently, comfortable bathrobes are there for you, so you can relax completely private.  Lying on the bed watching the 32 -inch Smart TV or look into a glossy magazine in the comfortable chairs.
BOOK THE SUITE WITH STEAM SHOWER
Our service:
In your room you can enjoy the complementary tea or coffee, and you have access to free Wi - Fi . The reception is present until 22:00 hour, but there is always someone sleeping in our hotel . You are not alone, so in case of emergency and/or illness, we are ready for you. However, you do not have to be 'at home' at 22:00 hour. The hotel facilities are there for your comfort so you can enter the hotel,at any time,  once you've checked-in.
Our rates are per room excluding breakfast. There is no additional fee for a single room; instead you pay a small surcharge for an extra person and additional breakfast
Breakfast is per person € 12,50 
Facilities :
Module with facilities including a motorless fridge, sink, crockery, glassware, bottle opener with free coffee pods and various flavors of tea and a Senseo device and kettle
Wardrobe with plenty of hangers
Double bed with a double hypoallergenic duvet and pillows
Delicious extra large bath towel and hand towel per person
Luxurious bathrobes
Clock radio with smartphone connection and / or wake- up call
Windows can be opened or tilt windows
Bathroom with sink, toilet and shower with steam capacity enriched with eucalyptus oil and two seats
Make- up and shaving mirror
Guest supplies: Damana based on natural products, free of GMOs, parabens, color pigments, etc. Dermatologist tested and not tested on animals Do you want to know more feel free to look at Damana or CSR
Desk to work
LG 32 inch Smart TV with cable connection
Seat with luxury Leolux Chairs
Various glossy magazines
Free unlimited access to Wi-Fi
Mechanical ventilation
Additionally :
This room located on the ground floor and overlooks the courtyard and terrace of Hotel de Tabaksplant
We don' t place extra beds in the comfort rooms. The quadruple Comfort Plus hotel room is located on the third floor, under the ridge and features a bath tub.  
This room is for up to four people but can also be booked for less than four. Placing a baby bed is possible at an extra cost and on request only
The entire hotel is non-smoking. Would you like to smoke? Then there are cosy seating areas with ashtrays in our rather special courtyard .
Looking for something else? Then have a look Luxe Garden rooms with kitchen facilities, or a suite with your own sauna. 
Hotel de Tabaksplant has 25 rooms, divided into 6 types of rooms, plus 6 apartments, very suitable for a long stay but also possible for a single night.
Something for everyone! Home a away from home
ALL PRICES EXCLUDING BREAKFAST UNLESS OTHERWISE STATED .
IF YOU CHOOSE A DATE, YOU WILL SEE THE BEST PRICE AVAILABLE  
The city of Amersfoort welcomes you, therefore Amersfoort charges you off the 1th July no more the city-tax
Vanaf €99,00 p.n.